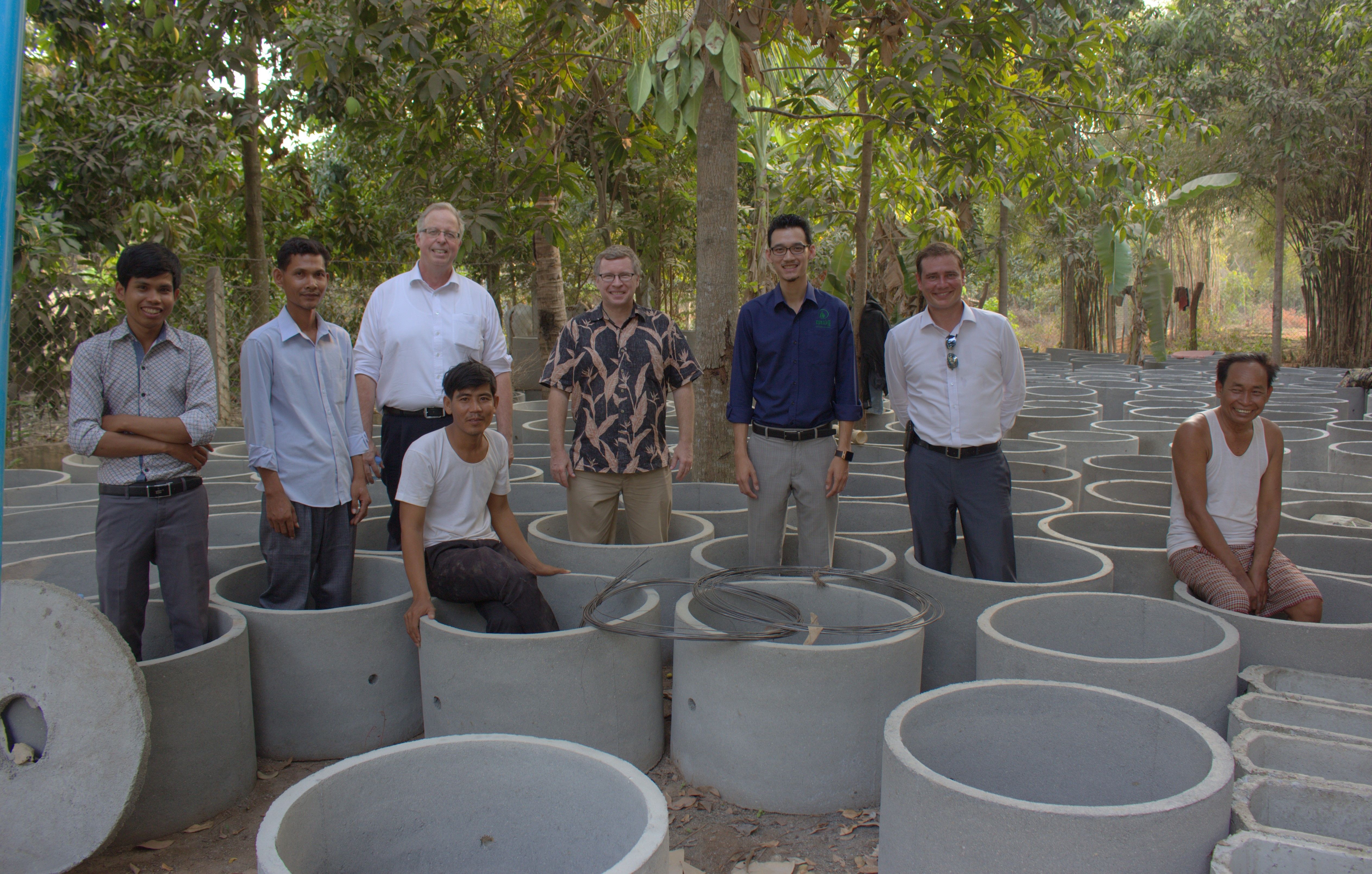 PHNOM PENH—His Excellency Philip Calvert, Canadian Ambassador to Thailand, Cambodia, and Laos,
got a break from the usual round of high-level meetings during his recent visit to Cambodia. The
Ambassador accompanied iDE on a field visit to agriculture and sanitation project areas in Kandal
Province, about an hour and a half outside of Phnom Penh. He was eager to see the results of Canadian
development assistance on the ground.
Global Affairs Canada is funding iDE's Farm Business Advisor (FBA) program with a grant that started in
2012 and ends in 2017. The Ambassador met with one of the FBAs, Mr. Chiv Hy and his wife Somret,
whom iDE recruited and trained three years ago. Acting as an independent entrepreneur, Chiv sells
agricultural inputs like seeds and irrigation equipment to customers in the surrounding villages. He also
provides advice to his customers throughout the growing season. Chiv receives a commission on the
products he sells and also earns income from his own vegetable crop, which doubles as a demonstration
plot.
Chiv noted that, out of the 30 clients that he is serving this year, most are using drip irrigation and
rotating their vegetable crops each season according to the advice that he gives them. Chiv also showed
off a new net house, currently under construction, that will protect future crops from insects without
using pesticides. But Somret does not expect any of their customers to buy one in the immediate
future. "People will need to see it work for a several seasons before they are confident enough to make
such a big investment," she said.
A short distance down the road, one of Chiv's customers had recently harvested a rice crop that yielded
twice as much as she used to get from the same land. She credited the productivity jump to the advice
and pest-control products that she purchased from Chiv. Results like this are common among FBA
clients. Most farmers use basic, low-yielding farming methods and so a little additional knowledge and
simple technologies can show big returns in a short time.
A network of 167 FBAs across five Cambodian provinces are supported by Lors Thmey, a social
enterprise established by iDE. Lors Thmey is currently funded partly by grants—including the Canadian
Government funding—and partly by revenues generated through the products and services sold to
farmers. The proportion of grant funding is expected to decrease over time and the enterprise aims to
be financially sustainable in three to four years.
From the FBA's farm, the Ambassador and his iDE entourage crossed the Bassac River on a pedestrian
ferry comprised of a wooden platform strapped onto two fishing boats. On the other side he visited the
open-air workshop of Mr. Ream Ny, a small-scale manufacturer of concrete products who is
collaborating with iDE's Sanitation Marketing program.
In the surrounding communities, iDE has trained sanitation sales agents to conduct group meetings and
door-to-door presentations that help rural households to weigh the costs of buying a latrine versus
doing nothing. Orders for the C$65 latrines are directed to Ny, who manufacturers the components,
delivers them in one of his four trucks, and installs them for the customer. Ny employs 20 workers and is
able to build and install 15 latrines per day. Asked what he will do once everyone in his area has a
latrine, Ny smiled and said "then I will start selling them concrete latrine shelters and upgrades."
To date, iDE's program has delivered more than 200,000 latrines through rural market channels—a
fourfold increase over the rate of latrine installations before the program began. The Sanitation
Marketing program received partial funding from Grand Challenges Canada and the methodology
developed in Cambodia is currently being applied and adapted in Ghana.
Ambassador Calvert is fluent in Mandarin and held diplomatic posts in Beijing before taking up his
current Ambassador role based in Bangkok. He is keen to build stronger links between Canada and
Southeast Asia through both business investment and smart development assistance. He recognized
that iDE's work is different than traditional NGO projects. He observed that iDE is reaching large scale
with a sustainable approach that enables rural people to seize opportunities instead of remaining
dependent on aid.