Foster Mutale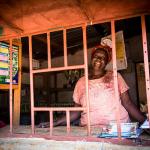 Foster Mutale first heard about iDE's treadle pump through a local radio station. She quickly contacted iDE, and expressed interest in selling pumps and learning more about agriculture. iDE recognized Fosters entrepreneurial spirit and trained her to become a Farm Business Advisor.
By connecting with iDE, Foster has impacted many around her. She has helped over 200 farmers in her community access a greater variety of products, and is looking to expand her own business. She kept all of her seven children in school which may not have been possible before. Foster said "the Zambian education system is very expensive; you don't just pay for schooling but for boarding and food at good schools." Because of donor support, Foster was able to provide a better life for her children and share her successes with other farmers.
Her organized, active approach to improving her livelihood and the lives of other farmers is truly inspiring.