Choub Pak – Easy Latrine Changes Everything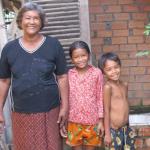 Ms. Choub Pak is 65 years old with 10 children and grandchildren all living under one roof.
Before owning a latrine they had to use the rice field as their toilet.
The most challenging time of "going" was during the rainy season when there was water everywhere which created contamination. Their family also faced privacy issues, being in plain view in the rice field was highly uncomfortable, especially for the women and girls.
The family frequently had diarrhea, skin rashes and diseases. Treating the diarrheal and skin diseases would cost them about $150 a year. Many times, the diarrhea kept the children and grandchildren out of school.
When the Easy Latrine option was presented to Choub, she and her children pooled their money to purchase one.
Since purchasing an Easy Latrine, the family's privacy is protected and they no longer have to use the rice field. Equally as important is that the incidents of diarrhea and skin diseases have dramatically decreased, thus making the money previously spent on medicine available for food.
Choub now shares the advantages of having an Easy Latrine with her relatives, friends and others. She knows firsthand the health impacts of the latrine and has become a strong advocate in her community.